Cooking with Essential Oils
The Magic of Creating a Meal
Too often, cooking can feel like a chore. But in the right circumstances, it can be so much more than that. When it's meaningful, cooking a meal is more like creating an experience. It brings people together.
Essential Oils offer a world of flavor
With so many uses of doTERRA essential oils, it's hard to keep track of all the versatility. One incredible use you may not have considered is incorporating them into your cooking. Because of the high concentration of essential oils, a little goes a long way, and the health benefits are bountiful.

FREE Ebook
Here are some essential oils you can and should use in your cooking:
Basil: for a variety of dishes
Bergamot: for teas (try mixing with honey)
Cilantro: for a variety of dishes
Cinnamon: for baking
Ginger: for a variety of dishes and teas
Lavender: for desserts and beverages
Peppermint: for desserts and beverages
Thyme: for a variety of dishes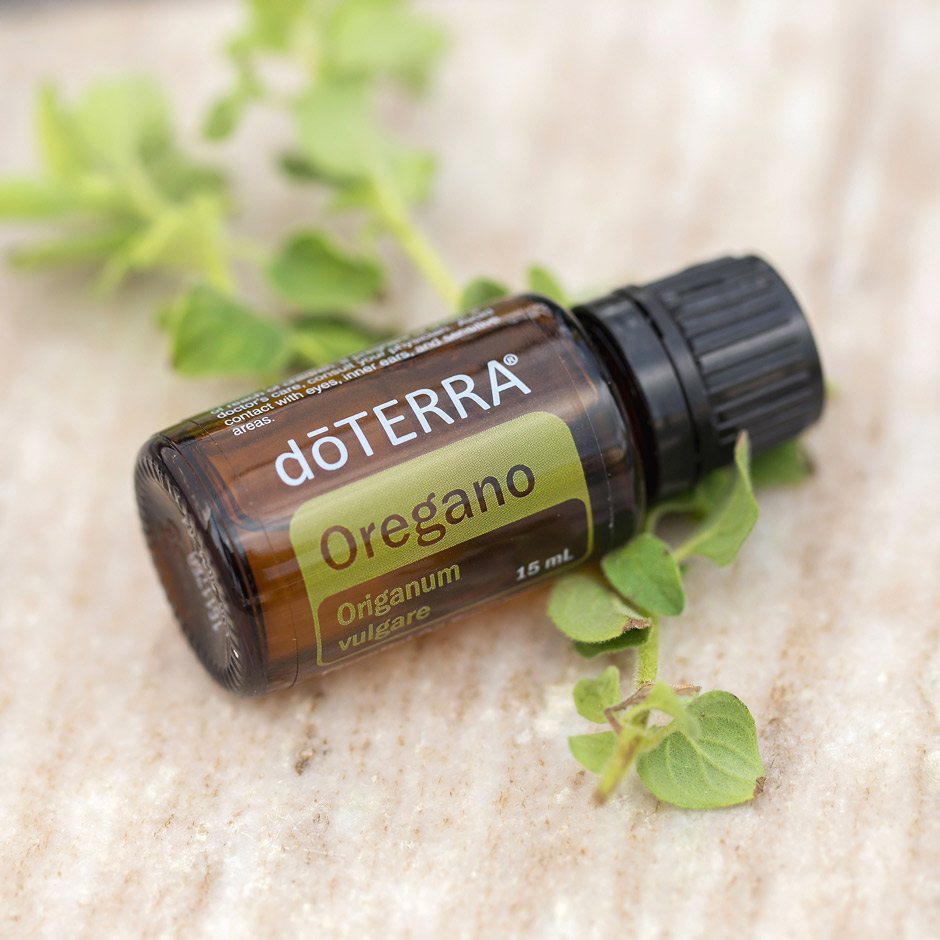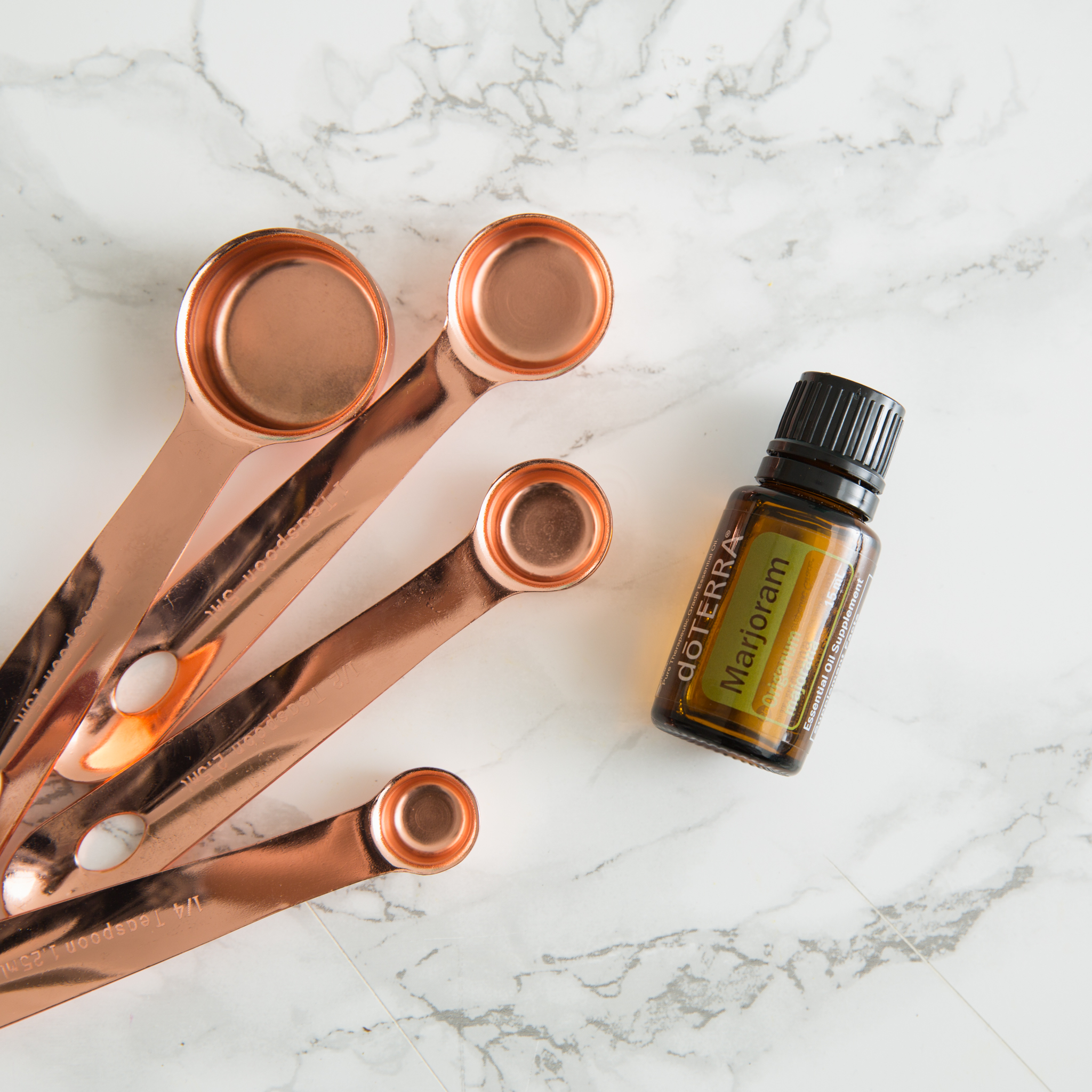 The Why behind using Essential Oils in your Cooking

How many times have you bought a specific fresh herb and it has gone bad before you were able to use it all? How often have you been unable to find an important ingrediant in a dish? I know for me, it seems to happen more and more, especially because I live in a small rual town. Cooking with essential oils is a convienient, fun, simple way to enhance the flavor of food while providing you with all the internal health benefits each oil has to offer. How you use essential oils for cooking will depend on your own personal taste, what kind of food you are making, and which oil you are using.
For example, most Italian dishes, Basil, Rosemary, and Thyme are the perfect additions, and you only need a drop or two!
No more waste! No more throwing away partially used groceries. No more frustration when you can't find fresh ingredients.
Another way to internalize the benefits and taste of essential oils is through your beverages. For example, Lavender essential oil gives a refreshing flavor to lemonade, tea, or even warm milk.
Turn a dull drink of water into a revitalizing treat with Grapefruit essential oil. Just add a few drops to a full cup of filtered water, stir a few times, and enjoy! You'll find it much easier and more enjoyable to get your water consumption in each day.
Safety Tips & Guidelines
doTERRA oils are tested and retested for their consumption safety, you know you're getting the best quality. Many companies add fillers and substitutions to enhance the scent and quantity of the oil, making them unsafe to ingest.
Because our Essential Oils are so concentrated, in most cases you would only need a drop or two for an entire dish. Once you add the oil, you cannot take it out, so use less at first and add more if needed.

How to Use EO's in your Cooking
Since the oils themselves are highly concentrated, you really only need a few drops to gain the taste and full benefit of them, so your oils will keep. Another important thing to keep in mind is diluting your oils in some form of lipid—like olive, coconut, or another oil alike. Diluting with these types of oils are safe to consume, and it helps with dispersing the essential oils throughout the dish for better flavor.
You also want to cook with volatile essential oils differently with hot dishes, as heat can destroy these fragile oils. Once you've finished cooking your dish, stir in your diluted essential oil. For your baked dishes, you'll simply lose a bit of the properties, but the flavor will stay intact.
The toothpick method:
1 toothpick dip = dip a toothpick into the essential oil and dip it once into the recipe
1 toothpick swirl = dip a toothpick into the essential oil and swirl it around in the recipe
1/2 drop – Drop an essential oil onto a spoon, then use the tip of a sharp knife to obtain the desired flavor.
Substituting oils for herbs:
1/2 tsp dried herbs = 1 1/2 tsp fresh herbs = 2-3 toothpick swirls of EO
1 tsp dried herbs = 1 tsp fresh herbs = 1 drop EO
Substituting oils for citrus:
1 tsp lemon extract = 1/8 tsp lemon essential oil = 16 drops
1 tbs lemon zest = 1/16 teaspoon lemon essential oil = 8 drops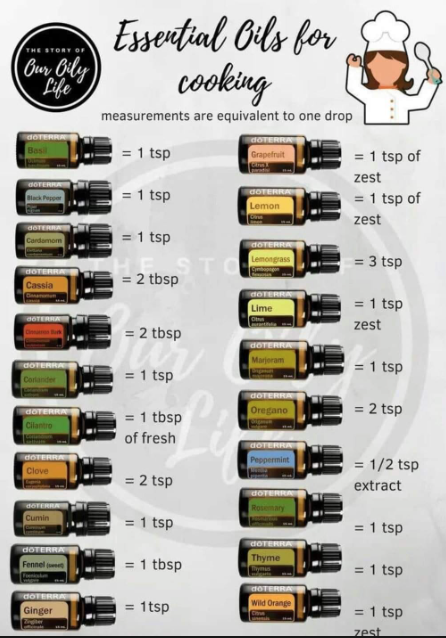 Sign up for Class
Understanding essential oils, how they work, what to use, how to safely use them, knowing the facts, and the science behind it is of the utmost importance.